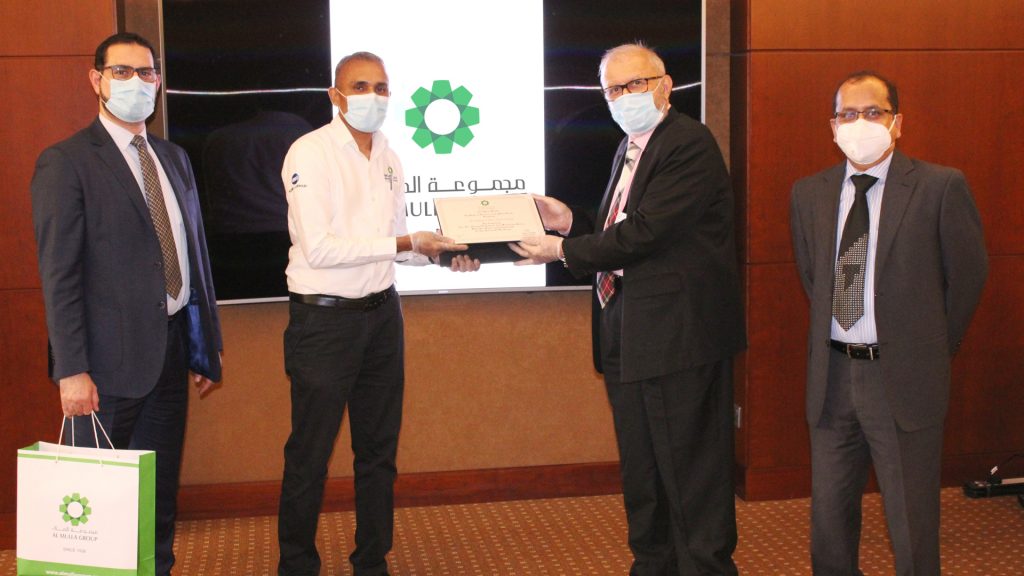 Al Mulla OAS Felicitates Employees On Completing 20 Years of Service
https://www.almullaoas.com/OAS/wp-content/uploads/2020/07/OAS-News-01-20200729-1024x576.jpg
1024
576
Al Mulla Office Automation Solutions
Al Mulla Office Automation Solutions
https://www.almullaoas.com/OAS/wp-content/uploads/2018/02/startlogo-100x100.png
Al Mulla Office Automation Solutions (OAS) honoured Pradeep D'Souza and Raman Lal Dabgar, on successful completion of twenty years. Hormuzda B. Davar, Managing Director, TM&FS Group, and Hani Saadi, Divisional General Manager, Trading & Manufacturing, felicitated these two long serving employees.
Raman is currently a part of the company's inventory team as Spares and Consumables Issuer. His ready knowledge of the details more than 15,000 line-items, as well as their location, help the company in delivering quick and efficient services to customers. Pradeep D'Souza had joined as Service Engineer and is heading at present the support team as Technical Manager. His problem-solving skills and contribution to resolving complex issues in the fields of both hardware and software are well appreciated by the company's valued customers. Additionally, over the years Pradeep has trained and helped more than forty engineers of the company's Service Department in increasing their knowledge base and being amongst the very best in the industry.
"Pradeep and Raman are very efficient, dedicated, and hardworking members of the OAS team. We wish them many more years of healthy and successful tenure in Al Mulla Group," said Santanu Das, General Manager, Al Mulla OAS.



Share This Page: