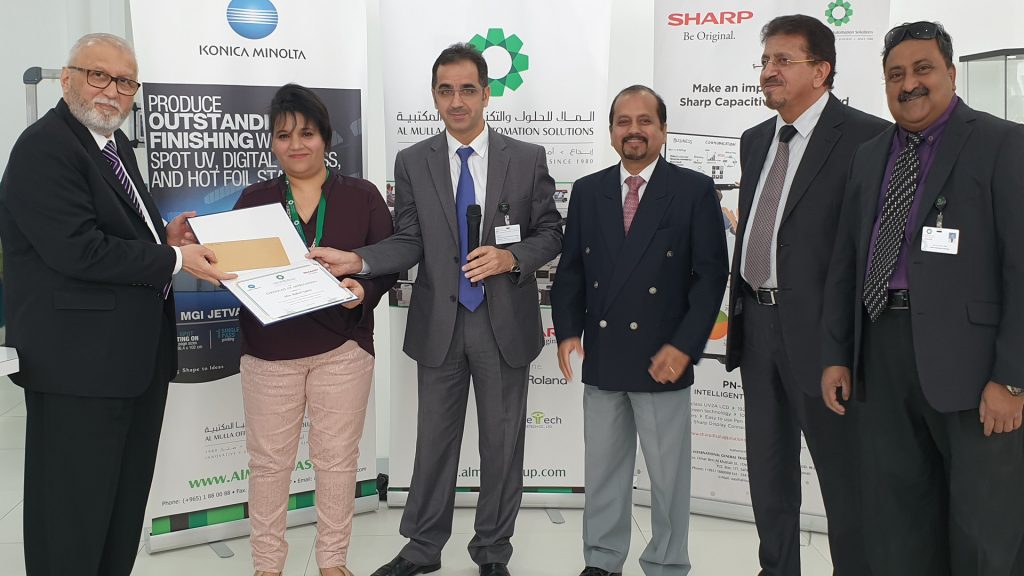 AL MULLA OAS REWARDS TOP PERFORMERS OF Q1FY 2019-2020
https://www.almullaoas.com/OAS/wp-content/uploads/2019/07/OAS-2019-Q1-01-1024x576.jpg
1024
576
Al Mulla Office Automation Solutions
Al Mulla Office Automation Solutions
https://www.almullaoas.com/OAS/wp-content/uploads/2018/02/startlogo-100x100.png
At a function organised earlier this week at the Company's offices located in Kuwait City, Al Mulla Office Automation Solutions (OAS) awarded top performing members of its staff for Q1 FY 2019-2020.
Mr. Hormuzda B. Davar, Managing Director TM&FS, Al Mulla Group, presented the awards consisting of certificates and cash prizes to the winners in various categories. The event was attended by Mr. V. Raghu, Finance Controller, T&M Group, Mr. Santanu Das, General Manager OAS, and other members of staff from the Company's sales and services teams.
Al Mulla Office Automation Solutions (OAS) is Kuwait's leading total solution provider in the field of office automation products and services. The company's portfolio includes products from leading international Global Brands Konica Minolta, OKI, Glory, Roland, Hitachi, Sharp, amongst others. OAS offers greater value on the total cost of ownership of printers, scanners, copier, fax, currency solutions, and MFPs (Multi-Function Printers) in Kuwait.
Admin Staff
Konica Minolta Sales Team
Konica Minolta Sales Team – Production Print Specialist
Sharp Sales Team
Masood Mahmood
Ahmed Elsayed
Aravind Babu
Office Equipment – Currency Solutions
Islam Ahmed Mohamed Elziny
Service – KM North
Service – KM South
Service – Sharp
Service – Currency Solutions
Service – Product Specialist
Service – Consumables Sales Representative












Share This Page: