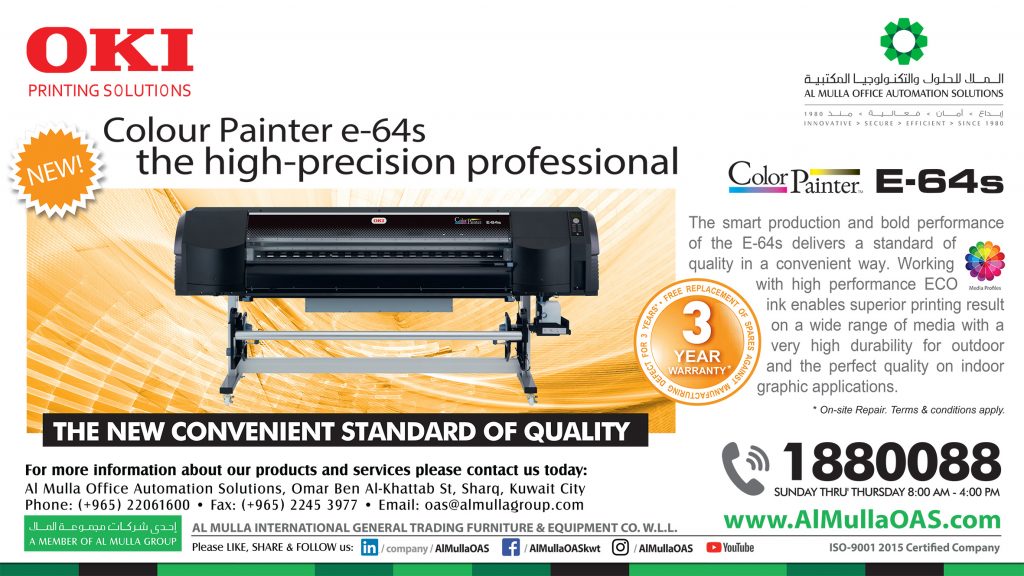 Colour Painter e-64s – The high-precision professional
https://www.almullaoas.com/OAS/wp-content/uploads/2019/07/OAS-OKI-Advt-Campaign-2019-4-1024x576.jpg
1024
576
Al Mulla Office Automation Solutions
Al Mulla Office Automation Solutions
https://www.almullaoas.com/OAS/wp-content/uploads/2018/02/startlogo-100x100.png
THE NEW CONVENIENT STANDARD OF QUALITY WITH 3 YEAR WARRANTY.
Colour Painter e-64s – The high-precision professional.
The smart production and bold performance of the E-64s delivers a standard of quality in a convenient way. Working with high performance ECO ink enables superior printing result on a wide range of media with a very high durability for outdoor and the perfect quality on indoor graphic applications.
3 YEAR WARRANTY*: FREE REPLACEMENT OF SPARES AGAINST MANUFACTURING DEFECT FOR 3 YEARS.*
(* On-site Repair. Terms & conditions apply)
For more information about our products and services, please contact us today:
Al Mulla Office Automation Solutions,
Omar Ben Al-Khattab St, Sharq, Kuwait City
Phone: (+965) 1880088
Fax: (+965) 2245 3977
Email: oas@almullagroup.com
Visit us at: www.AlMullaOAS.com
Please LIKE, SHARE & FOLLOW us:
Linkedin.com/company/almullaoas
facebook.com/AlMullaOASkwt
Instagram.com/AlMullaOAS
ISO-9001 2015 Certified Company
A Member of Al Mulla Group
Share This Page: