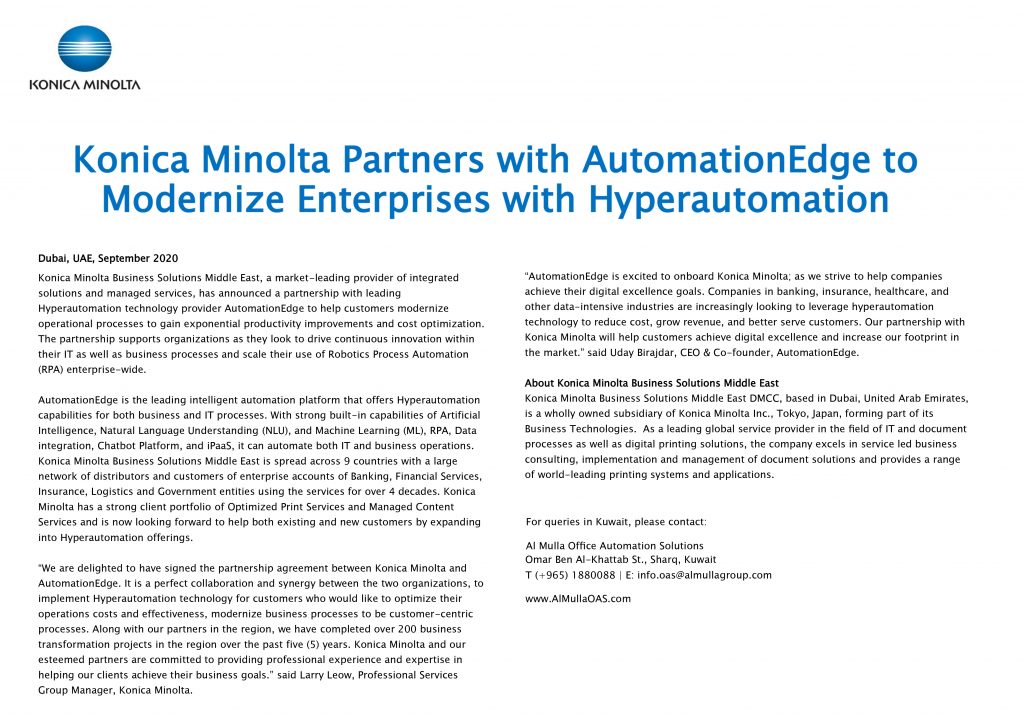 Konica Minolta Partners with AutomationEdge to Modernize Enterprises with Hyperautomation
https://www.almullaoas.com/OAS/wp-content/uploads/2020/09/Konica-Minolta-Middle-East-Partners-with-AutomationEdge-1-1024x717.jpg
1024
717
Al Mulla Office Automation Solutions
Al Mulla Office Automation Solutions
https://www.almullaoas.com/OAS/wp-content/uploads/2018/02/startlogo-100x100.png
Konica Minolta Business Solutions Middle East, a market-leading provider of integrated solutions and managed services, has announced a partnership with leading Hyperautomation technology provider AutomationEdge to help customers modernize operational processes to gain exponential productivity improvements and cost optimization. The partnership supports organizations as they look to drive continuous innovation within their IT as well as business processes and scale their use of Robotics Process Automation (RPA) enterprise-wide.
AutomationEdge is the leading intelligent automation platform that offers Hyperautomation capabilities for both business and IT processes. With strong built-in capabilities of Artificial Intelligence, Natural Language Understanding (NLU), and Machine Learning (ML), RPA, Data integration, Chatbot Platform, and iPaaS, it can automate both IT and business operations. Konica Minolta Business Solutions Middle East is spread across 9 countries with a large network of distributors and customers of enterprise accounts of Banking, Financial Services, Insurance, Logistics and Government entities using the services for over 4 decades. Konica Minolta has a strong client portfolio of Optimized Print Services and Managed Content Services and is now looking forward to help both existing and new customers by expanding into Hyperautomation offerings.
"We are delighted to have signed the partnership agreement between Konica Minolta and AutomationEdge. It is a perfect collaboration and synergy between the two organizations, to implement Hyperautomation technology for customers who would like to optimize their operations costs and effectiveness, modernize business processes to be customer-centric processes. Along with our partners in the region, we have completed over 200 business transformation projects in the region over the past five (5) years. Konica Minolta and our esteemed partners are committed to providing professional experience and expertise in helping our clients achieve their business goals." said Larry Leow, Professional Services Group Manager, Konica Minolta.
"AutomationEdge is excited to onboard Konica Minolta; as we strive to help companies achieve their digital excellence goals. Companies in banking, insurance, healthcare, and other data-intensive industries are increasingly looking to leverage hyperautomation technology to reduce cost, grow revenue, and better serve customers. Our partnership with Konica Minolta will help customers achieve digital excellence and increase our footprint in the market." said Uday Birajdar, CEO & Co-founder, AutomationEdge.
About Konica Minolta Business Solutions Middle East Konica Minolta Business Solutions Middle East DMCC, based in Dubai, United Arab Emirates, is a wholly owned subsidiary of Konica Minolta Inc., Tokyo, Japan, forming part of its Business Technologies. As a leading global service provider in the field of IT and document processes as well as digital printing solutions, the company excels in service led business consulting, implementation and management of document solutions and provides a range of world-leading printing systems and applications.
For queries in Kuwait, please contact:
Al Mulla Office Automation Solutions
Omar Ben Al-Khattab St., Sharq, Kuwait
T (+965) 1880088 | E: info.oas@almullagroup.com
www.AlMullaOAS.com
Share This Page: